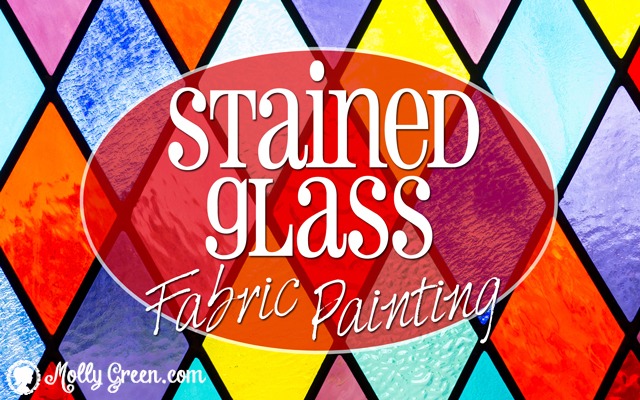 By Karen Whiting
It's easy. It's fun. It comes out gorgeous and even a toddler can help. It also provides opportunities for learning about art. Here's how to make stained glass t-shirts for Christmas, Easter, or art class.
History of Stained Glass
Egyptians and Romans produced colored glass, but it was in the fourth and fifth centuries that churches began to make stained glass windows to illustrate pictures of famous Bible stories.
Most people could not read and the windows served as teaching tools. The early windows are sometimes called "the poor man's Bible." Alas, many of these beautiful stained glass windows were destroyed by wars and storms, but you may be able to visit some local churches that carry on the ancient tradition. Just call the church and ask for a tour for your homeschool group.
For some stained glass inspiration, check out some famously stained glass windows here.
How to Make Stained Glass T-shirts
Supplies needed:
T-shirt or other fabric to paint
Cardboard to place under the fabric layer to paint
Fabric paint
Sponges (look for stencil sponges on sticks that look like mini-plungers)
Empty CD case
Masking tape of different widths (you can use regular masking tape or painter's masking tape
Optional: Black fabric marker the same thickness as the thinner tape.
Directions:
Slide the cardboard inside the T-shirt and position it to be behind the design you will paint.
Make your design. You can make a simple one, starting with the outer shape. Fold a paper and cut one half of the design so it will be symmetrical.
Lay the paper on the fabric and outline the pattern with wide masking tape. The tape will keep the paint from bleeding through to other areas of the fabric. Make sure to press the tape to be sure it adheres well.
Fill in the lines of the window with narrow tape (you can use quilter's masking tape). You can make a pattern and even design little shapes inside the outer shape. Or, you can just place the lines randomly. Talk about patterns and shapes as you do this step.
Next, squirt paint onto one side of the DVD case. This will hold the palette of colors. Dip the sponges into the various colors of paint and apply the paint to the fabric. You can dab or use a press and twirl movement to add dimension to the painting. As you overlap colors you will also be mixing new colors. So, you can mix red and white to make pink, or blue and gold to make green.
It's a great lesson for young ones on mixing colors. If you don't wish to mix colors, use one color at a time and allow it to dry before adding a second color. Use separate sponges for each paint color.
When you finish painting, put your art supplies back in their organized places and wash the sponges or toss them out. Let the paint on the fabric dry overnight. The next day, remove the tape to see the design. If desired, use a thick black fabric marker to draw in black lines for the lead used in stained glass windows. For extra bling, use fabric adhesive and glue on sequins or flat-backed jewels.
Stained Glass Fabrics
Once you learn the basic skill, get creative. Paint pillowcases, tote bags, hats, and make fabric ornaments—all with this painting technique. You can also cut paper stencils and use repositionable tape to paint on cardstock to make cards or decorate packages. Try painting other shapes, such as stars, sport equipment, horses, angels, tools, or anything else you can draw. You can also download clipart to give you the basic shape.
Karen Whiting is an international speaker and author of eighteen books. This craft is from her inspirational craft book God's Girls #1. She enjoys helping her grandchildren homeschool. She received the 2014 Christian Retailing Best Award for her book The One Year My Princess Devotions.